Biographical Information
Born: Nov. 5,1855, in Terre Haute, Indiana.
Died: Oct. 20,1926, Lindlahr Sanitarium, Elmhurst, Illinois. Buried in Terre Haute, Indiana.
Education: Attended Terre Haute Public schools, dropping out of high school at age of 14 to take job as painter in railroad yards. In 1870 became fireman on railroad. In his spare time, he went to night classes at a local business college.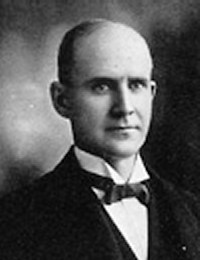 Timeline
September 1874 — At his mother's insistence he gave up job as railroad fireman and went to work in wholesale grocery firm of Hulman & Cox as a billing clerk. February 27, 1875 — Became charter member and secretary of Vigo Lodge, Brotherhood of Locomotive Firemen. He continued work at Hulman & Cox and used his salary to help the fledgling local union and conducted its work at night. Later the same year he became president of Occidental Literary Club of Terre Haute. Brought famous personages to Terre Haute including Col. Robert Ingersoll, James Whitcomb Riley, Susan B. Anthony and many others.
1878 — Made assistant editor of national Brotherhood of Locomotive Fireman's Magazine.
1879 — Elected to first of two terms as City Clerk of Terre Haute on Democrat ticket.
1880 — Named Grand Secretary of Brotherhood of Railway Firemen and editor of the Magazine.
1884 — Elected state representative to the Indiana General Assembly as a Democrat representing Terre Haute and Vigo County. Served in 1885.
June 9, 1885 — Married to Kate Metzel whom he loved and cherished until his death. They had no children.
1890 — Built and moved into his beautiful Terre Haute home at 451 North Eighth Street, which is now a National Historic Landmark of the National Parks Department of the Department of Interior of the United States; an official historic site of the State of Indiana and is now the Debs Museum.
1891 — Announced his retirement from the Brotherhood of Locomotive Firemen as its Grand Secretary.
1892 — Convention of Brotherhood of Locomotive Firemen prevailed on him to retain editorship of Magazine.
June 1893 — Organized in Chicago first industrial union in United States, the American Railway Union.
April 1894 — The American Railway Union struck Great Northern Railway. Not a wheel moved on Great Northern and at end of 18 days, the railway granted demands of union.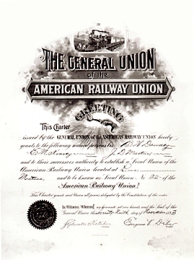 May 11, 1894 — Pullman Boycott and strike at Chicago began.
July 23, 1894 — Debs and leaders of ARU jailed
May, 1895 — Debs and leaders of ARU sent to jail for contempt of court in connection with Pullman strike. Finished sentences
Nov. 22, 1895. Given triumphal welcome by thousands on his arrival in Chicago, from Woodstock, Ill. jail where sentence was served.
1900, 1904, 1908, 1912, 1920 — Ran as candidate of Socialist Party for President of the United States in some of the most dynamic campaigning ever seen in the United States. Made his greatest showing in campaign of 1908 which featured the RED SPECIAL train which went to every section of the country.
1907-1912 — Named Associate Editor of the Appeal to Reason published in Girard, Kan. He was paid the then fabulous salary of $100 per week. The weekly magazine achieved a circulation of several hundred thousand due to the powerful writing of Debs. The bound files of the Appeal to Reason for the years of 1907 to 1914 are part of the library in the Debs home.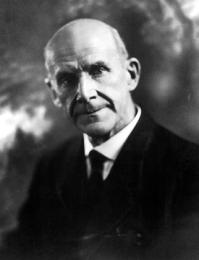 1916 — Ran for Congress in his home district in Terre Haute on the Socialist ticket and was defeated.
June 16, 1918 — Debs made his famous anti-war speech in Canton, Ohio, protesting World War I which was raging in Europe. For this speech he was arrested and convicted in federal court in Cleveland, Ohio under the war-time espionage law. He was his own attorney and his appeal to the jury and his statement to the court before sentencing, are regarded as two of the great classic statements ever made in a court of law. He was sentenced to serve 10 years in prison.
April 12, 1919 — Debs began serving his sentence in Moundsville, W. Va. State prison and was transferred to Atlanta, Ga. Federal prison two months later. His humility and friendliness and his assistance to all won him the respect and admiration of the most hardened convicts.
1920 — For the fifth and last time, while a prisoner at Atlanta, he was nominated to run for president on the Socialist party ticket. Conducting his campaign from inside the prison, he was given nearly a million votes but was defeated by the Republican, Warren G. Harding. On Christmas Day, 1921 President Harding released Debs from prison, commuting his sentence to time served.
Dec. 28, 1921 — Debs arrived home in Terre Haute from prison and was given a tremendous welcome by thousand of Terre Hauteans. Debs spent his remaining days trying to recover his health which was severely undermined by prison confinement. He made several speeches, wrote many articles and finally in 1926 went to Lindlahr sanitarium just outside of Chicago.
Oct. 20, 1926 — Eugene V. Debs died in Lindlahr sanitarium. His body was brought back to Terre Haute where it lay in state in the Terre Haute Central Labor Temple. Great men and women from the world came over to Terre Haute for his funeral which was conducted by Norman Thomas from the front porch of the Debs home. ThIrty-eight years later, Thomas returned to Terre Haute to dedicate the Debs home as a memorial to the great humanitarian. Debs was cremated and his ashes were interred in Highland Lawn cemetery, Terre Haute, with only a simple marker. Ten years later his beloved wife, Kate, was buried beside him. Over the years, hundreds have journeyed to his grave to pay tribute to this great man whose many reforms have now become a part of the American way of life. There is hardly any American alive today, rich or poor, whose life has not been touched in some beneficent way by the influence of Eugene Victor Debs.
"Too long have the workers of the world waited for some Moses to lead them out of bondage. I would not lead you out if I could; for if you could be led out, you could be led back again. I would have you make up your minds there is nothing that you cannot do for yourselves."— from an address on Industrial Unionism delivered at Grand Central Palace. New York City, Dec. 18,1905.