Purpose
"The purpose of the Foundation shall be to own, maintain and operate the Eugene V. Debs home at 451 North Eighth Street, Terre Haute, Indiana, on a non-profit basis, in order to:
be a memorial to Eugene V. Debs and Theodore Debs and receive, hold and administer such gifts of money, property, works of art, historical papers and documents, museum specimens and other material having educational, artistic or historical value;
serve as an archive and resource for research and education in the social sciences and in labor and political history."
From the by-laws of the foundation, (founded 1962)
---
History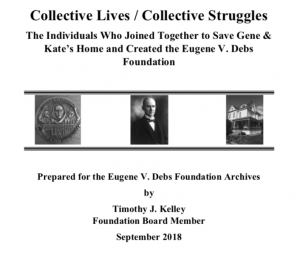 Thanks to many hours of research by Board member Tim Kelley, we now have a history of the founding members of the Eugene V. Debs Foundation, entitled "Collective Lives/Collective Struggles". This labor of love chronicles not only the beginnings of the Foundation but details about the lives of its charter members.
Many thanks to Tim Kelley and all those who supported his research. Without this effort, much of this information would be lost in the sands of time.
The entire history is available as PDF document for download! Please share and enjoy!
---
Officers
---
Other Documents