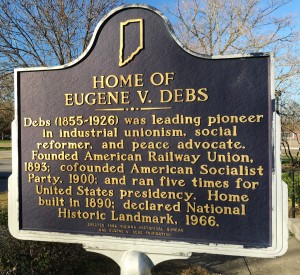 History Of Debs Home
1890 — House completed at cost of $4,500 on present site and moved into by Kate and Eugene Debs. This was their home until Debs died.
1916-17 — Old wooden front porch removed and replaced by present brick and concrete porch.
1936 — Mrs. Debs died and most of Debs household effects given to relatives under the will of Mrs. Debs.
1938 — House purchased by Prof. John Shannon of Indiana State College and his wife Ester.
1948 — House sold by Prof. Shannon to Tau Sigma Alpha fraternity which covered the weatherboarding with cedar shingles.
1961 — House bought by J. Bruce Bindley from fraternity.
Jan. 16, 1962 — House purchased by contractor William Heck who remodeled it into small apartments.
May 22, 1962 — House purchased by Eugene V. Debs Foundation from Heck for $9,500 and the work of making it into a Debs Memorial was started.
1965 — Made an official historic site of state of Indiana by Indiana General Assembly.
1966 — Made an official National Historic Landmark of the National Parks system of the Department of Interior of the United States with this status, the preservation of the property is monitored regularly by the National Park Service, and it is protected from seizure by right of eminent domain.
1977 — Now a national shrine and visited by hundreds yearly.
1989 — The 100 year old slate shingle roof was replaced at the cost of $25,000.
1993 — An Indiana State Historical Marker was erected to provide an attractive identification of the state historical site.