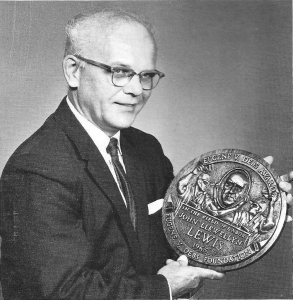 The first priority of the Debs Foundation when founded in 1962 was to preserve the Debs Home and open it as a museum for the public.
A second priority was to establish an awards program, this as another way to honor the memory of Debs and to assist in keeping alive the spirit of progressivism, humanitarianism and social criticism epitomized by Debs.
Each year since 1965, with 1972 and 2020 excepted, an award banquet has been held in Terre Haute honoring a person or organization which has worked in the spirit of Debs and which has contributed to the advancement of the causes of industrial unionism, social justice, or world peace.
So each fall, a banquet is held as a tribute to Debs and honoring an individual who has made significant contributions to society in the "Debsian" tradition. These persons may have worked in the labor movement, public service or education.
Debs Award Dinner Postponed Until 2021
The Debs Award Dinner had been scheduled for September 12, 2020. The Foundation selected the next recipient of the Award to be the Innocence Project, an organization which plays a major role in fighting for the exoneration and rights of the wrongly convicted. After discussion during the Spring meeting of the Foundation's Board of Directors, it was unanimously concluded to present the Award to the Innocence Project on a yet to be determined date in 2021. The primary reasons for the decision were the dangerous and uncertain conditions in the world and in the U.S. that would make it impossible to predict whether we could hold any kind of a successful event in the Fall of this year.
One hundred years ago, Gene Debs was Convict No. 9653 while he ran for President of the United State from his cell in the Atlanta Federal Penitentiary. He received almost a million votes. He was imprisoned for the crime of exercising his right to freedom of speech by declaiming against the role of the United State government in the First World War. He wrote about his experiences in the penitentiary and his reflections on the injustices suffered by prisoners in Walls and Bars, one of the most important books ever published about the American penal system. A century later, as we prepare to vote again for candidates for the President of our country, the critical issues Debs raised about the prison system have yet to be addressed and remedied.
The Debs Foundation will be pleased to honor the work and accomplishments of the Innocence Project in 2021. The words of Prisoner No. 9653 are as pertinent, precise and prescient now as they were when he wrote them. We will not wait another hundred years to create a just society.
Award Recipients