Congratulations to Jobs With Justice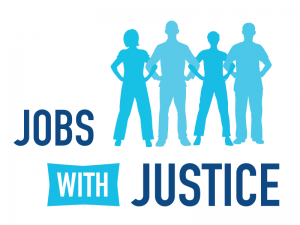 On Saturday, October 14, 2017, the Eugene V. Debs Award will be presented to the Jobs with Justice national organization together with its regional and local affiliates. Sarita Gupta, the Executive Director of Jobs With Justice, will accept the Award. The event will begin at 6:00PM with a cocktail hour followed by dinner and the Award presentation at 7:00PM. The location will be the Sycamore Banquet Facility on the campus of Indiana State University, Terre Haute, Indiana.
For more than thirty years Jobs With Justice has led the way in building broad based coalitions fighting with discipline and effectiveness for the rights of working people. It is a timely and appropriate award presentation given the tide of resistance swelling across our country to counter and overcome the ferocious offensive being conducted by Trump Inc. It has never been more important to emphasize that organizations and networks such as Jobs With Justice are essential driving engines of social change and to acknowledge the roles that they play in uniting leaders in common causes.
---
We are once again offering a Labor History Tour of Terre Haute the afternoon of the banquet from 1pm until 3pm, led by Debs Foundation board member Timothy Kelley.
---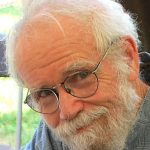 This fall, we are proud to continue hosting the best in labor music: Charlie King is a musical storyteller and political satirist. He has been at the heart of American folk music for half a century and has been writing songs for the past 40 years. Honors include: an "Indie" award for one of the top three folk recordings of 1984; the War Resisters League's 1998 Peacemaker Award given to Charlie and Odetta; and the 1999 Sacco-Vanzetti Social Justice Award for which he was nominated by Pete Seeger; the 2009 International Labor Communications Association award for Best Labor History Story; and the 2014 Joe Hill Award from the Labor Heritage Foundation, a Lifetime Award for excellence in the eld of labor culture. His songs have been recorded and sung by Pete Seeger, Holly Near, Ronnie Gilbert, John McCutcheon, Arlo Guthrie, Peggy Seeger, and Chad Mitchell. Charlie's new CD is "Life & Love, Tears & Laughter."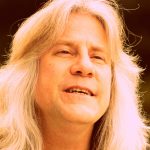 A former union organizer and activist based in New York, George Mann sings songs from the last century of labor and social activism, and his own songs are powerful and funny takes on the state of the nation. His concerts are part sing- along, part history lesson, and he can make you shout for joy, send chills down your spine or bring tears to your eyes in the same set. George created and produced the "Hail to the Thief!" anti-Bush CD series, which featured such folk legends as Tom Paxton, Utah Phillips, and Billy Bragg, and his work with veterans, unions and anti-war groups has kept him on the front lines for 20 years. He toured and recorded for ten years with Julius Margolin, who lived to 93 before passing in 2009, and in 2008 he directed and produced "A Union Man: The Life and Work of Julius Margolin," a one-hour documentary about Julius and his life as a labor and anti-war activist and singer.