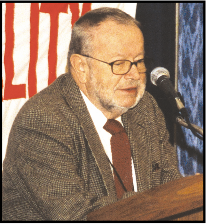 The Eugene V. Debs Foundation is saddened to report the passing of Professor J. Robert Constantine, the last surviving founder of the Eugene V. Debs Foundation, who passed away at his home in Austin, Texas, on Thursday, May 25, 2017, at the age of 93. In 1962, he was the member of a small group who raised money and negotiated the purchase of the Debs Home from a local developer, thus saving the home from the wrecking ball. Bob served as Foundation Secretary from 1962 until 1983 and was a long time professor of American History at Indiana State University, retiring in 1989.
Professor Constantine edited the 3 volume "Letters of Eugene V. Debs", published by the University of Illinois Press in 1990, and prepared an abridged 1 volume edition, "Gentle Rebel" that was released in 1995. He was also the author of numerous articles.
In his role as a founder and the organization's first secretary, Bob worked tirelessly to restore and preserve the Debs Home, raised funds and built up the foundation's membership. For more than 20 years, he organized Debs Award dinners, handled the groups correspondence as well as completing numerous administrative functions and doing this all without a salary!
Ben Hanford, the 1904 & 1908 Socialist Party Vice Presidential nominee created a fictional character known as "Jimmie Higgins". It was "Jimmie" that performed the silent, unglamorous, behind the scenes work that allowed the party to achieve its success. Bob Constantine was a scholar, a friend and through his tireless efforts for the Eugene V. Debs Foundation, he was our "Jimmie Higgins"!
Thank you Bob and rest in peace.
Donations to the Eugene V. Debs Foundation are being accepted in his memory.
---
The Eugene V. Debs Foundation Gratefully Acknowledges
Donations Made in Memory of Dr. J. Robert Constantine by
Aaron Chappell
Laurie Jaeger and Bill Wigle
Darwin Hamilton
Stephen Howard
Tim Kelley
John Nation
Christopher Rickerd
Silky Shah
Suzanne VanReed
Forrest Wilder
and
The Grassroots Leadership Board of Directors