Congratulations to Jobs with Justice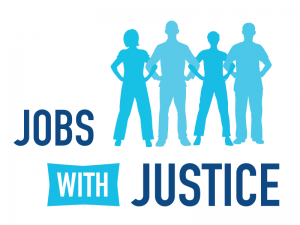 On Saturday, October 14, 2017, the Eugene V. Debs Award will be presented to the Jobs with Justice national organization together with its regional and local affiliates. Sarita Gupta, the Executive Director of Jobs with Justice, will accept the Award. The event will begin at 6:00PM with a cocktail hour followed by dinner and the Award presentation at 7:00PM. The location will be the Sycamore Banquet Facility on the campus of Indiana State University, Terre Haute, Indiana.
For more than thirty years Jobs with Justice has led the way in building broad based coalitions fighting with discipline and effectiveness for the rights of working people. It is a timely and appropriate award presentation given the tide of resistance swelling across our country to counter and overcome the ferocious offensive being conducted by Trump Inc. It has never been more important to emphasize that organizations and networks such as Jobs with Justice are essential driving engines of social change and to acknowledge the roles that they play in uniting leaders in common causes.