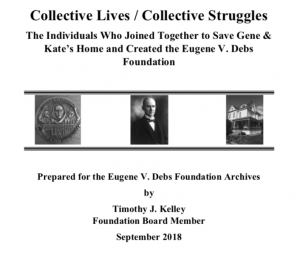 Thanks to many hours of research by Board member Tim Kelley, we now have a history of the founding members of the Eugene V. Debs Foundation, entitled "Collective Lives/Collective Struggles". This labor of love chronicles not only the beginnings of the Foundation but details about the lives of its charter members.
Many thanks to Tim Kelley and all those who supported his research. Without this effort, much of this information would be lost in the sands of time.
The entire history is available as PDF document for download! Please share and enjoy!