Join us at the Debs Museum for two events connecting Debs to another Hoosier iconoclast, Kurt Vonnegut. Both events are free and open to the public. Questions? Contact the Debs Museum by calling (812) 232-2163.
Unity Study Circle: Kurt Vonnegut
Wednesday, July 17th at 6:30 pm
All are invited to a special meeting of the Unity Study Circle. While we typically work with Debs' writings and speeches, this month we'll shift our focus to another outspoken and influential Hoosier: Kurt Vonnegut. His landmark anti-war novel Slaughterhouse-Five turns 50 this year, and Vonnegut's critical pen and dedication to peace and justice place Vonnegut squarely in the Debsian tradition. In celebration of the author, we'll take a deep dive into Vonnegut's connection to Debs and labor.
Vonnegut accepted the Debs Foundation's 1981 Eugene V. Debs Award for his advancement of social justice and world peace. His ever-relevant remarks at the 1981 Debs Awards Banquet serve as our first reading. We'll also discuss this 2013 article from Jacobin Magazine by Matthew Gannon and Wilson Taylor. This piece describes Vonnegut's literary contributions to the long struggle for economic justice, connecting him to Debs, Carl Sandburg, A. Phillip Randolph, Bayard Rustin, and Martin Luther King, Jr. Our final selection is Vonnegut's Sandburg Award acceptance speech "Don't Despair if You Never Went to College!" which can be found in the 2013 anthology If This Isn't Nice, What Is? Advice to the Young edited by Dan Wakefield. For copyright purposes, this piece isn't linked here — instead, study group participants will read the speech together at our meeting.
Jailbird: Kurt Vonnegut and Eugene V. Debs
Guest Lecture by Chris Lafave, Curator, Kurt Vonnegut Museum and Library
Wednesday, July 24th at 6:30 pm
The Debs Museum proudly welcomes Chris Lafave for a guest lecture on Vonnegut's novel Jailbird, highlighting the connections between Debs and Vonnegut. Lafave is Curator with the KVML. He was introduced to the work of Kurt Vonnegut while attending Ball State University at the tender age of 23.
His first book was Breakfast of Champions, followed closely by the excellent short story collection, Welcome to the Monkey House, on the night Vonnegut died. Chris continued to admire Vonnegut's work throughout a stint playing in bluegrass bands in Chicago, Illinois, and completing his Masters in Library Science at Indiana University.
He began volunteering at the KVML in 2011 at the grand opening, became Curator in 2012, and has continued to serve the organization to this day.
Can't get enough Vonnegut? Be sure to check out the Kurt Vonnegut Museum & Library and support their transition to a new permanent home on Indiana Avenue in Indianapolis. As part of Banned Books Week at KVML, Debs Foundation board members and Debs Museum staff will present an evening of programming on Debs, censorship, and free speech on September 25th. More information coming soon!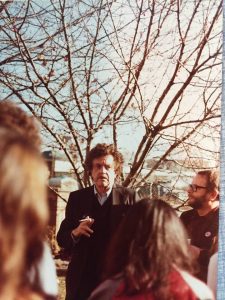 Kurt Vonnegut, while in Terre Haute to receive the Eugene V. Debs Award in 1981, speaks to a group in the east garden of the historic Eugene V. Debs home while Debs Foundation founder and board member Bob Constantine looks on.