Update 6/22/2020: The screening has been rescheduled for TONIGHT, June 22nd at 7:30 pm Eastern. Tune in with us at live.berniesanders.com!
Update 6/5/2020: This event has been postponed indefinitely; watch this page and the official Facebook event page for further announcements.
Update 5/29/2020: Senator Sanders' team has rescheduled this livestream event to Friday, June 5th at 8 pm in order to keep the attention on the killing of George Floyd and the need for this country to end police violence. We wholeheartedly support this decision and look forward to the event next week.
Tune in! Senator Sanders will highlight his political inspiration by a hosting watch party for WFYI's 2019 documentary The Revolutionist: Eugene V. Debs. A panel discussion will follow featuring Senator Sanders, actor and Revolutionist narrator Danny Glover, journalist John Nichols, and more! The film starts at 8 pm EDT at this link.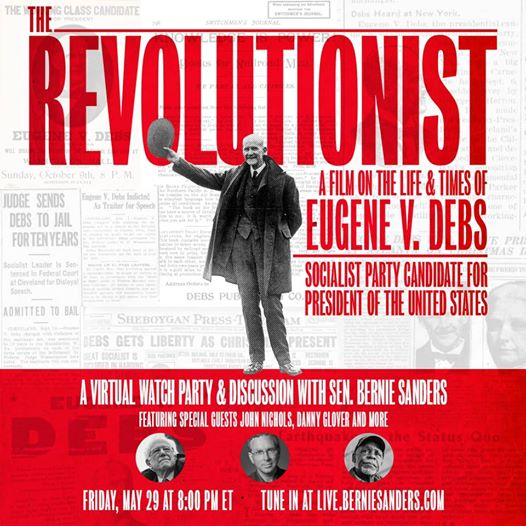 Alternately loved and reviled, Eugene Victor Debs was a passionate labor leader, a progressive political figure, and a formidable speaker in a time of great change in the United States. WFYI's new documentary, The Revolutionist: Eugene V. Debs, tells the story of this Hoosier's life. Born in Terre Haute in 1855, Eugene Debs emerged as a divisive figure when he led the nationwide Pullman Strike in 1894. Seeking an alternative way for workers to gain power, he helped establish the Socialist Party in the United States and ran as its candidate for president five times. His campaign across the country drew massive crowds, and his oratory tested the limits of the First Amendment. When he spoke out against America's involvement in World War I, the Supreme Court upheld a guilty verdict that sentenced him to ten years in prison for violating the Espionage Act. From his cell, he ran for president for the final time, garnering nearly a million votes…and sparking a national conversation about the right to free speech.