Update: The recorded and captioned program is now available to stream at this link.
100 years ago, Eugene V. Debs made his fifth and final bid for the presidency as Convict No. 9653. Imprisoned for condemning war, Debs campaigned from his Atlanta prison cell on issues that still resonate today: "real democracy and self-government and the essential rights and liberties of the people."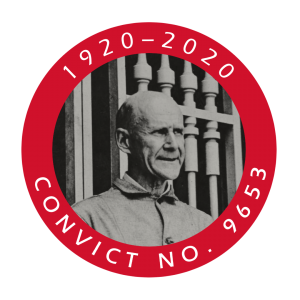 On October 11th, join the Debs Foundation and Museum for a virtual program to mark this centennial season and connect Debs to our times. We'll screen the second half of WFYI's Emmy Award-winning documentary The Revolutionist: Eugene V. Debs, followed by a panel discussion on Debs' relevance today.
Distinguished panelists include Kim Jacobs, writer and producer of The Revolutionist; Clayola Brown, President of the A. Philip Randolph Institute and 2012 Debs Award honoree; and Dr. Ernest Freeberg, Departmental Chair of History at the University of Tennessee and author of Democracy's Prisoner: Eugene V. Debs, the Great War, and the Right to Dissent.
We are also pleased to welcome Magpie as our musical guests. Acclaimed duo Terry Leonino and Greg Artzner have performed at multiple Debs Awards Dinners. Tune in for a live performance of an original Debsian song and an old labor favorite.
Want to be featured on the program? Record and submit a short video of yourself responding to this prompt: What does Eugene V. Debs mean to you in 2020? Upload your video here.
"Convict 9653 at 100" will stream live on our Facebook page on October 11th at 3 pm Eastern.